Baby Beaver born at Five Sisters Zoo thriving in Northumberland
A short film has been released by Beaver Trust and Five Sisters Zoo telling the behind-the-scenes story of a beaver kit's birth at the Zoo and successful release at Wallington Estate.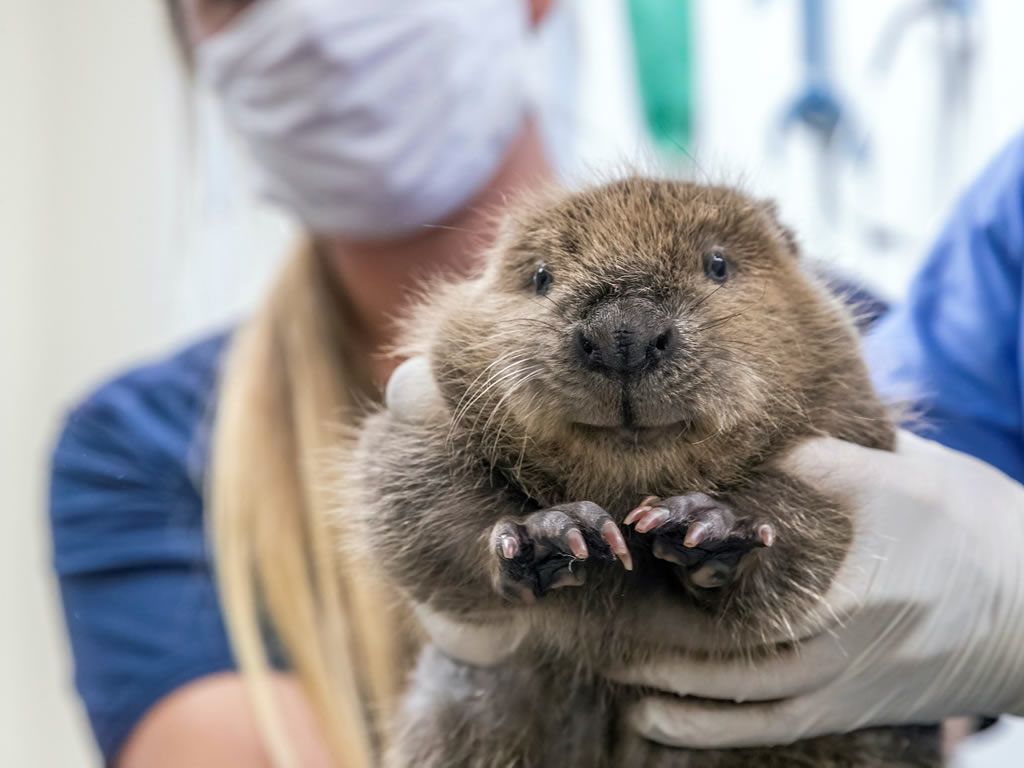 Article Source: Five Sisters Zoo
Last Updated: 16 November 2023 10:01
This week a short film has been released by Beaver Trust and Five Sisters Zoo telling the behind-the-scenes story of a beaver kit's birth at the Zoo and successful release at National Trust's Wallington Estate, highlighting the work of those involved who went above and beyond to make it happen.

In July earlier this year a family of four Eurasian beavers were successfully released on the National Trust's Wallington Estate in Northumberland as part of plans to boost wildlife and increase the landscape's resilience to a changing climate.

It was reported that two adult beavers and two young had been successfully relocated from wild populations in the River Tay catchment in Scotland to their new home in a 24-hectare fenced enclosure on a tributary of the River Wansbeck. The adult female was, in fact, found to be pregnant when she was trapped in Scotland and taken into Beaver Trust's holding facilities at Five Sisters Zoo.

What followed was a series of careful health checks, sensitive care, and detailed monitoring to ensure the female and her family were calm and comfortable to give the unborn beaver kit the best chance. The team worked to create a bespoke habitat at Five Sisters Zoo, where the beaver family would have plenty of space and enrichment while awaiting the birth of the kit.

Dr Roisin Campbell-Palmer, Head of Restoration at Beaver Trust, said: "The fact that we have a healthy young kit that has been born and raised by its family relatively normally and is now acting naturally in its new home is a testament to everyone involved at Beaver Trust and Five Sisters Zoo prioritising the family's welfare and working extremely hard to keep the whole process, from trapping and transport to monitoring, to the care in captivity, sufficiently low stress. I'm really proud to have been a part of it."

Gary Curran, Head Carnivore Keeper at Five Sisters Zoo, said: "We were delighted to experience this first in our zoo's history, and to be part of this incredible journey for these beavers. We have taken what was a more unusual, very hands-off approach than we usually would to ensure the female and her unborn kit had the best possible chance of survival and were delighted when the kit was safely born in our enclosure."

Dr Romain Pizzi, Independent Specialist Wildlife Veterinarian, said: "We knew as soon as we discovered that the female was expecting this would be a different challenge than we initially expected but it couldn't have gone better. Ensuring the health of the whole family, including the newborn kit was crucial and we look forward to seeing them thrive now in their new surroundings"

With the kit looking strong and healthy, the family were transported down to Northumberland where they were released on July 12th. Footage from the estate shows that the beavers are settling in well and already beginning to transform their surroundings as hoped.

Paul Hewitt, Countryside Manager at the National Trust, said: "We're incredibly grateful to the teams at the Beaver Trust and Five Sisters Zoo who took such great care of the whole beaver family while we waited for their release here at Wallington. The news that the kit was born safe and well was wonderful and made the anticipation of release day even more special. They've been here for 4 months now and are all happy and healthy, having settled in brilliantly. They're already making changes to the landscape and we're really looking forward to seeing what they do over the coming months and years."

The Wallington Estate was the location for the conservation charity's third beaver release, following successful introductions on Exmoor in 2020 and the South Downs in 2021. The release was the first to take place in Northumberland, with the animals becoming one of the very few beaver populations in northern England.

The beavers form part of a bigger project called Wilder Wallington that is designed to improve prospects for nature across the 5,300-hectare estate and beyond. Other plans include encouraging the migration of pine martens, restoring hedgerows and areas of peatland, planting trees, tackling invasive non-native species, supporting farmers to incorporate nature into their business plans and alleviating flooding. The reintroduction of beavers at Wallington was generously funded by the Reece Foundation

The film can be viewed online on Beaver Trust's Youtube Channel and at The Wallington Estate's visitor centre and cafe.

Got a story to share? Send us an email at hello[@]whatsonnetwork.co.uk
Latest Edinburgh News
Popular Events
Explore the sights and sounds of Christmas in this magical after dark experience when it returns to the Royal Botanic Gardens in Edinburgh!
Stage Door Entertainment, in partnership with Portobello Town Hall, is proud to bring the enchanting fairytale to life, promising to captivate audiences of all ages.
Prepare to see the jewel in Edinburgh's skyline sparkle and glisten in brilliant colour this festive season as Castle of Light is back for its fourth year!
Join Peter Pan as he sets sail on a brand-new adventure for Christmas 2023 at the Festival Theatre, with pantomime favourites Allan Stewart, Grant Stott and Jordan Young!
Join Bill Bailey for a jaunt through the error-strewn, distracted, crumb-festooned, sometimes magnificent history of human thought and how it might help us survive in this brave new world!
Popular Venues