What if the Duke of Wellington statue and Edinburgh Castle looked very different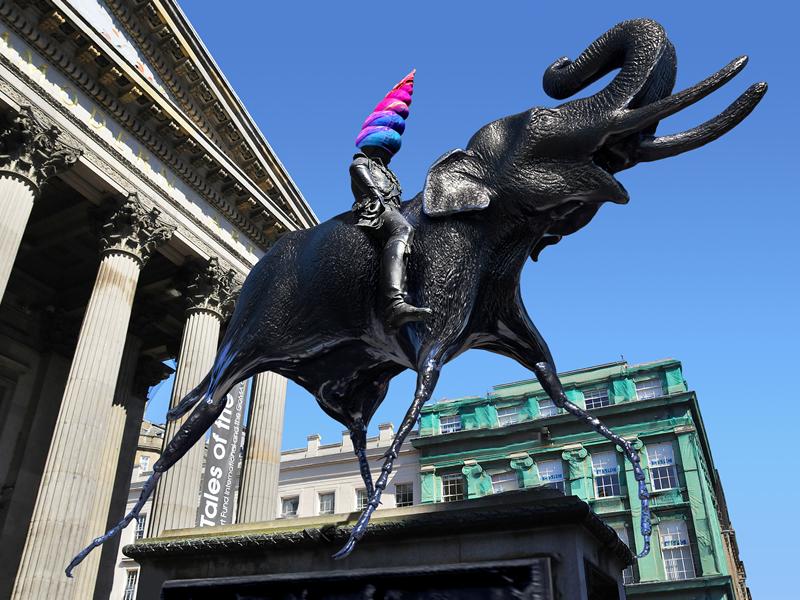 TransPennine Express have reimagined famous buildings and iconic landmarks and questioned what they would be like if designed in the style of some of the world's pioneering artists and architects!
Edinburgh Castle and Glasgow's Duke of Wellington statue are two of Scotland's most famous landmarks, visited by tourists and loved by locals. It's difficult to imagine them ever looking different, but TransPennine Express has done just that – redesigned these iconic landmarks in the style of famous artists.

The Castle has been reimagined in the style of Gaudi, and the Duke of Wellington statue has been given a Dali-esque makeover.


Edinburgh Castle by Gaudi
Edinburgh Castle was built in the 12th century by David I, and is today one of the oldest fortified places in Europe, steeped in history. In its time, it has been a royal residence, prison, fortress and military garrison. Although parts of the castle are still used for military purposes, it is now a world-famous attraction, connecting Old and New Towns of Edinburgh. It houses some of Scotland's most famous artefacts, such as the Stone of Destiny and the Honours of Scotland. Edinburgh castle is instantly recognisable as the walls of the fortress dissolve into the rock as if they were one.
Edinburgh Castle is reimagined in the style of Gaudi. His influence is immediately obvious, with Gothic free flowing shapes replacing the towers and the walls using bright, jewel colours borrowed from Park Güell. The castle's roof takes inspiration from his Casa Batlló building in Barcelona, which is now a museum dedicated to Gaudi's work.
Duke of Wellington Statue by Dali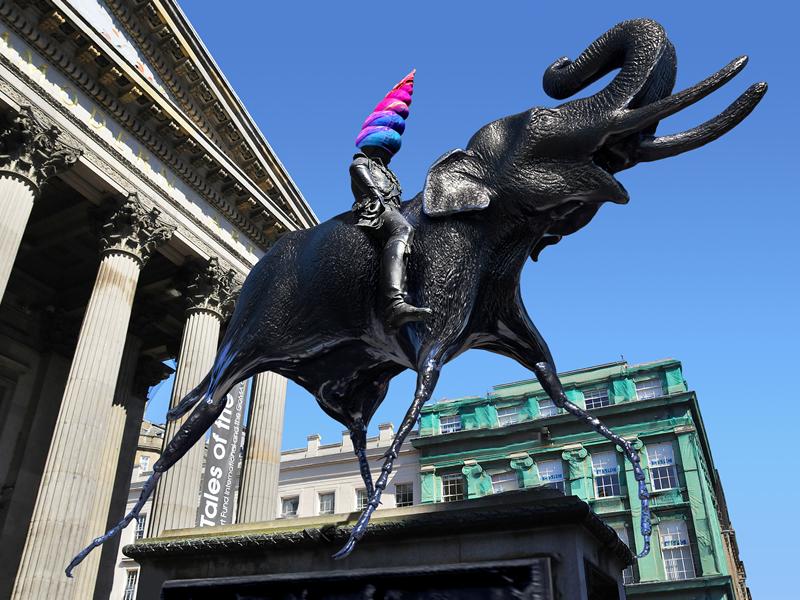 The Duke of Wellington statue was erected in 1844 and designed by the Italian artist Carlo Marochetti. It captures the first Duke of Wellington, Arthur Wellesey, atop his trusty steed. It can be found outside the Gallery of Modern Art on Royal Exchange Square.
Of course, every Glaswegian knows the statue – mostly because he always has a traffic cone on his head, in a tribute to the city's humour. The cone-capping tradition began in the 1980s after enthusiastic partygoers would climb up after a few too many. The local council tried to fight the cone placement for many years, but eventually they gave in, granting the cone recognised status. In recent months, the Duke's statue has bore a mask of Lewis Capaldi, a teetering stack of multiple cones and even his horse has been turned into a unicorn with a cone of its own.
Multiple historians have said that Wellesey himself would love the tradition – and so would artist Salvador Dali. Dali was known for his flamboyant surrealist style, turning the ordinary into the extraordinary. In this reimagining, the Duke's noble horse has been swapped out for an extravagant elephant with bird-like legs. The legendary traffic cone has been replaced by a bright abstract one. Could you imagine seeing this in Glasgow city centre?
The full series of UK landmarks reimagined in the style of famous artists and architects can be found on the
TransPennine Express website
.
Last Updated: 20 September 2019 10:36
Latest Local News