Princes Street Gardens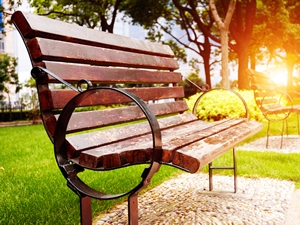 About Princes Street Gardens
Princes Street Gardens lies at centre of Edinburgh's World Heritage Site, within New Town and Old Town Outstanding Conservation Areas. It is listed in the Inventory of Gardens and Designed Landscape in Scotland and has geological and botanical scientific interest. The Gardens are set in the valley between the old and new towns with Edinburgh Castle on its rock towering above the western end. The park has been awarded a Green Flag since 2011 and its central location make it a popular choice with residents and visitors.

The world renowned Floral clock was first planted in 1903 and each year the planting scheme commemorates a special anniversary. The planting schemes are designed by the Technical team in the Parks and Greenspace Service. The colourful displays take 30,000 plants, and a variety of flower and foliage plants are used in the designs. All are of a dwarf nature, suitable for carpet bedding, including annuals such as Lobelia, Pyrethrum and Golden Moss and succulents such as Echeveria and Sedum.

There is a diverse and fascinating collection of public monuments and memorials in Princes Street Gardens dating mainly from the 1840s to 1990s. There are three types. The first commemorate influential Scottish men of the 18th and 19th centuries, including the Scott monument and the David Livingstone statue. The second group remember those who have died fighting in wars, including the Royal Scots Regimental Memorial and the Scots American War Memorial, and the third group include miscellaneous sculptures and monuments such as the Ross Fountain.
Upcoming Events at Princes Street Gardens
Sponsored Links
Popular Events
Starring Sharon Small, Still Alice is a tender and touching insight into the world of a 50 year old woman diagnosed with early-onset Alzheimer's.
Little Baby Bum - Join Mia, Jacus, Twinkle and their Nursery Rhyme Friends at the world premiere of a brand new live show.
Watch a free screening of the 1980 film 'The Gods Must Be Crazy' at Grassmarket Cinema on 23rd July.
The exuberant cabaret-swing of Rumba da Bodas are celebrating their tenth anniversary and return to Edinburgh Jazz and Blues Festival in July.
Cryptically painted puzzle pieces are set in the trees for viewers to discover in this art installation by Anne Gilchrist.
Advertise With Us