Edinburgh International Book Festival First Book Award winner is Iraqi writer Shahad Al Rawi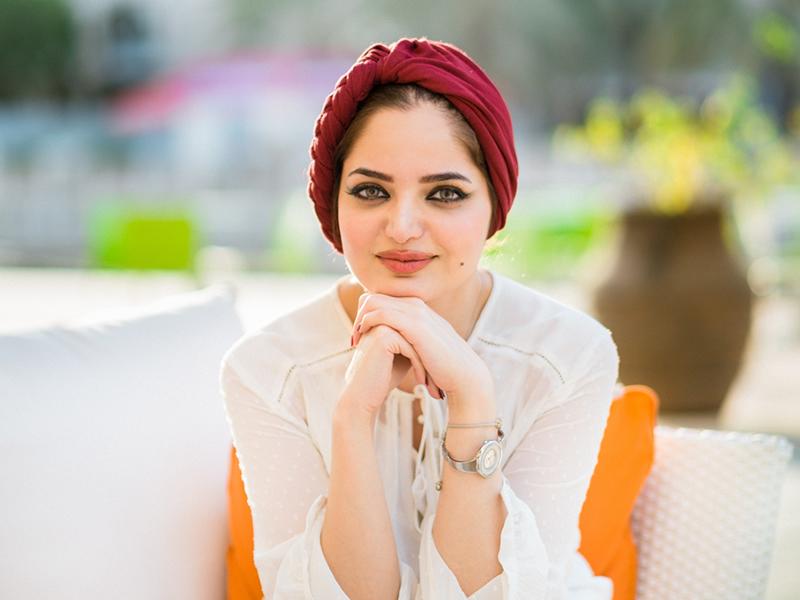 Organisers of the Edinburgh International Book Festival today announced that the Iraqi writer Shahad Al Rawi has won the Festival's 2018 First Book Award with her debut novel, The Baghdad Clock.
Organisers of the Edinburgh International Book Festival today announced that the Iraqi writer Shahad Al Rawi has won the Festival's 2018 First Book Award with her debut novel, The Baghdad Clock. The novel, which was shortlisted for the International Prize for Arabic Fiction in 2018 and topped the bestseller lists in Iraq, Dubai and UAE, was translated by Luke Leafgren and published by Oneworld.

The First Book Award celebrates the wealth of new fiction from the UK and around the world featured in the Book Festival public programme and is voted for by readers and visitors to the Festival. The winner was chosen from the 49 debut novels and short story collections for adults and young adults eligible for the Award this year.

Shahad Al Rawi, who appeared at the Book Festival in August, was born in Baghdad in 1986. She attended secondary school in Baghdad before moving with her family to Syria. She now lives in Dubai where she is currently studying for a PhD in Anthropology.

In her poignant novel, Al Rawi takes readers beyond the familiar images of Iraq in the news to show the everyday struggle of Baghdad's people, revealing the reality of growing up in a war-torn city and watching a way of life that's slowly disappearing in front of their eyes.

"I'm extremely happy to receive the news of winning the 2018 First Book Award from the Edinburgh International Book Festival." Shahad Al Rawi said. "I'm very proud for two reasons; first because this prize came from the Edinburgh International Book Festival itself. Secondly, because the competition was extremely strong and the books drew on so many different subjects. I want to thank my readers from all around the world for choosing my novel. In addition, I'd especially like to thank Oneworld for taking so much care with The Baghdad Clock, translating and publishing it in English.

"Edinburgh International Book Festival is one of the most important festivals in the world," she continued. "It has the best reputation, and I'm very grateful that I was part of it this year. I was so happy to participate in all the activities and very impressed by how well organized it was. Most of all I was enchanted by the people. I wish every success to the Edinburgh International Book Festival in the coming years to continue creating bridges between writers and readers. I loved everything about the City of Edinburgh and it's a great honour to be connected to it by this prestigious prize that carries its name."

Nick Barley, Director of the Edinburgh International Book Festival, said "To tell stories is a fundamental part of the human condition. Even in extreme situations like the one portrayed in Shahad's novel, it's stories that keep people going. Maybe that's why her novel is so affecting and so powerful. The Baghdad Clock is not just a popular winner with Edinburgh International Book Festival readers this year: it's also a brilliant winner that will live long in the memory – and it establishes Shahad Al Rawi as a force to be reckoned with, in Arabic and English alike."

The Baghdad Clock is set in 1991 in the midst of the Gulf War, as a young Iraqi girl huddles with her neighbours in an air raid shelter. There, she meets Nadia, and the girls quickly become best friends, sharing their dreams, their desires, and their first loves. But as they grow older and the bombs continue to fall, the international sanctions bite and friends begin to flee the country, the girls must face the fact that their lives will never be the same again.

The novel was a clear favourite, with voters commenting "It is a novel that touches the hearts of Iraqis before others, from the reality of their lives. Thank you to Shahed Al Rawi for having made blood flow in my veins again. "The book took me back to the beautiful days when we were just small kids and teenagers. No pain no war no loss." "It expressed our past life and our friendships, our neighbours in very simple and touching words." And "Some books you can touch the fragrance of the past when you read them. This novel brings back memories that were hidden under the dust of time."

For full details of all writers and books eligible for the 2018 First Book Award go to www.edbookfest.co.uk
The 2019 Edinburgh International Book Festival will run from Saturday 10 to Monday 26 August and the full programme will be announced in June.

Image credit: Kareem El Deeb


Last Updated: 1 November 2018 14:09
Latest Local News
Sponsored Links
Popular Events
Edinburgh's free volunteer-run music & community Meadows Festival returns on the 1st and 2nd June 2019.
The Edinburgh Craft Beer Festival returns on 24th and 25th May with a world class line-up of breweries, headline music acts and Scotland's finest street food.
Richard O'Brien's legendary rock 'n' roll musical is back to thrill you once again at the Edinburgh Playhouse.
Come along to The Fiddlers Arms every weekend from 9pm and enjoy free live music with something to suit everyone's tastes! Entry is always free.
Michael McIntyre is continuing his Big World Tour this spring and is warming up with shows around the UK. Catch him at Edinburgh Playhouse on 22nd May!
Advertise With Us
Looking to reach new customers? We offer a variety of advertising options with prices starting from just £30 per month!