Seabird Lecture to Celebrate Legacy of World Renowned Gannet Expert
A special lecture to celebrate the legacy of world renowned gannet expert, Dr Bryan Nelson.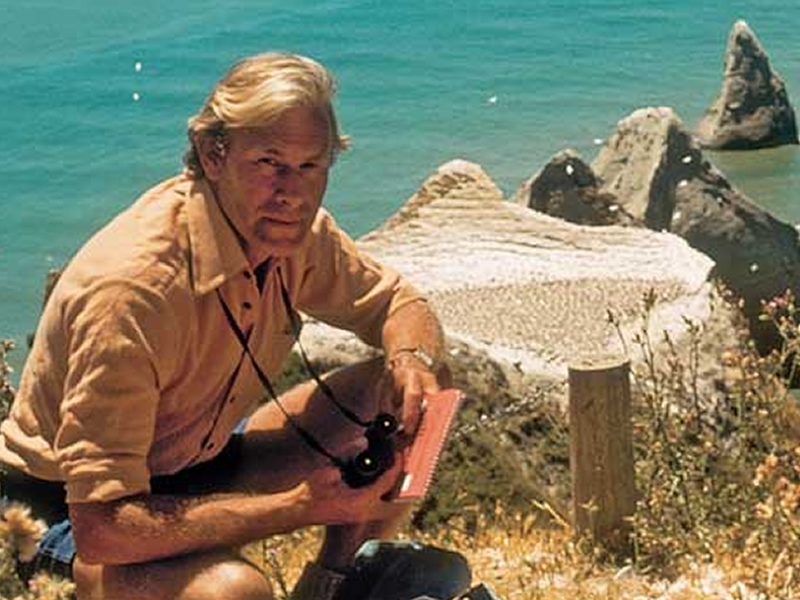 A special lecture on the pioneering work being done to secure a future for seabirds across the globe is being hosted this month by the Scottish Seabird Centre and RSPB Scotland, in memory of the world's leading expert on gannets.

Dr Bryan Nelson, who passed away in 2015, spent his life working to better understand and protect seabirds, including carrying out important research in the Galapagos.

The event is being held at 7.30 pm on Wednesday 25 October at the Craiglockhart Campus of Edinburgh Napier University, with speaker Professor John Croxall, Chair of the Birdlife International's Global Marine Programme.

Around the world, the majority of seabird populations are declining – many to globally threatened levels. From the puffins and kittiwakes of the British Isles to the albatross and petrels of the southern oceans, seabirds face multiple threats from human activity on land and at sea.

Professor Croxall will tell the story of how global conservation action for seabirds has evolved from focussed efforts by individuals into large and highly innovative projects, including the eradication of invasive predators from remote islands. He will also explore how new initiatives are seeking to address the intensifying problems seabirds face.

This is the second Bryan Nelson memorial lecture organised by RSPB Scotland and the Scottish Seabird Centre. The first was held last year, and it is hoped that it will continue to be an annual event.

Bryan was a great supporter of the Scottish Seabird Centre from its inception and served as a Trustee until shortly before he died. He was a lifelong RSPB member, and a founding member of RSPB Scotland's Galloway Local Group.

A renowned global expert on cormorants, boobies and frigatebirds, Bryan and his wife, June, famously spent three years in the 1960s living in a small hut on the Bass Rock where his research work helped to unravel the fascinating life history of Britain's largest seabird, the gannet.

Alex Kinninmonth, Head of Marine Policy at RSPB Scotland, said: "Seabirds are amongst the world's most threatened group of birds. Although there have been notable successes in dealing with invasive predators and reducing bycatch in commercial fishing gear, huge challenges remain to be overcome if we are to reverse seabird declines here in Scotland and further afield. John has a wealth of experience in the field of nature conservation and it promises to be a highly engaging evening."

Tom Brock OBE, Chief Executive of the Scottish Seabird Centre, said: "Conservation and environmental education are key priorities for the Seabird Centre. It is important that there is increased awareness and understanding of the major threats worldwide that seabirds are facing as well as where conservation projects are being successful. Professor Croxall's lecture promises to be a fascinating insight and highly recommended for anyone with a passion for the natural world, seabirds and wildlife conservation."

Tickets for the lecture 'Seabird research for conservation: past successes, future prospects' are available to purchase now for £6 from the Scottish Seabird Centre website: here


Last Updated: 12 October 2017 14:08
Latest Local News
A special lecture to celebrate the legacy of world renowned gannet expert, Dr Bryan Nelson.
One of the UK's most popular comedians, Jon Richardson is back on the road this autumn with his second leg of his smash hit tour 'Old Man'!
Soul-funk legends Jazzie B and Caron Wheeler are coming to The Glasgow Barrowlands on Saturday, December 9th!
ODEON East Kilbride is to become the first ODEON Luxe cinema in Europe - officially launching on Thursday 12th October!
More Local News
Last Updated: 6th October 2017
Listeners offered chance to buy balcony tickets for the 2017 Forth Awards in November.
Last Updated: 5th October 2017
Champagne moment as Caribbean-bound Karen Celebrates £10,000 win on Forth 1's On The Money Extra.
Last Updated: 5th October 2017
An intriguing new play exploring the relationship between fathers and sons will have its world premiere at the Traverse Theatre.
Last Updated: 4th October 2017
elrow have announced the lineup for the elrow Halloween Haunted House indoor festival at Royal Highland Centre.
Last Updated: 30th September 2017
Scotland's iconic landmarks light up to support Paisley UK City of Culture 2021 bid!
Last Updated: 29th September 2017
Actress, singer and TV personality Claire Sweeney will take over the role of 'Irene' in the national tour of Crazy For You.