MagicFest Announce Return of Christmas Show
Edinburgh International Magic Festival Announces the Return of MagicFest Christmas and a Move to Traverse Theatre.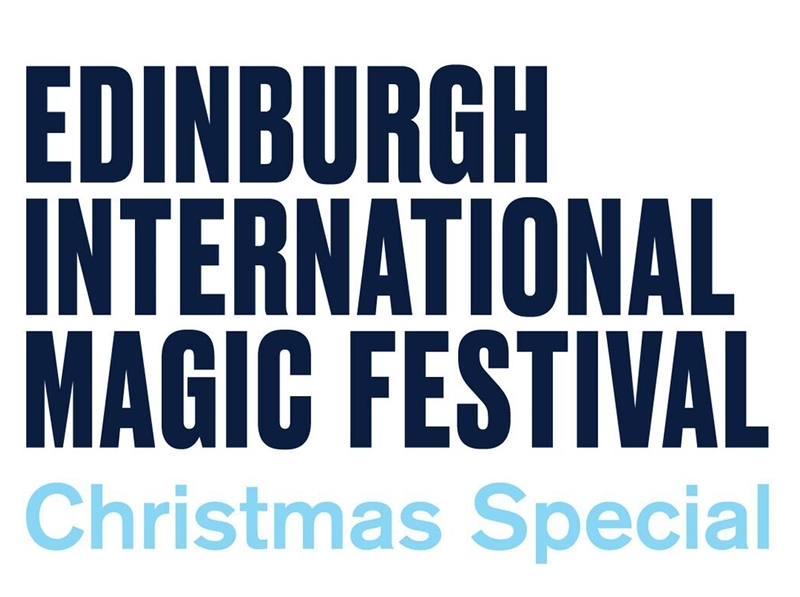 After a successful launch of their festive edition last year, MagicFest Christmas are delighted to return with 'The Secret Gift' Christmas Special, 27th – 30th December, featuring stars of magic from around the UK and special guest performers from Spain.

Audiences of all ages are invited to enter MagicFest's wintery world of wonder and unwrap 'The Secret Gift' with performances from five magicians including grand illusionist Chris de Rosa, magic vaudevillian Paul Dabek, magician-scientist hybrid Kevin Quantum, and Spanish performers David Blanco – a master of misdirection – and the legendary 'Bubble Poet' Señor Pérez, who will bring the show to a spectacular finish with a flurry of bubbles.

Following the popularity of last year's show, MagicFest Christmas moves to the city centre Traverse Theatre, welcoming people to share in the joy of magic and uplifting feeling of enchantment. And just like Christmas Day, the two-hour show is packed with suspense, excitement, surprise and guessing that will leave a smile (and look of confusion) on everyone's face.

Artistic Director, Kevin Quantum commented… 'It is heart-warming to announce the return of MagicFest Christmas and I am thrilled that the show will take place at one of my favourite Edinburgh theatres - the Traverse.

Edinburgh is really lucky to be the only city in the UK to have a magic festival at Christmas, and I think our festive show has been so well received because it offers something fun for families and couples to do that extends that magical feeling of Christmas Day for a few extra days. Why should magic finish on 25th December?!'

This year's line-up includes:

Kevin Quantum (UK) - Magician-Scientist Hybrid
Trained by Penn and Teller - Kevin fuses visual magic with modern technology and unique inventions. A Guinness World Record Breaker and recently awarded 'high commendation' at the Adelaide Fringe.

David Blanco (Spain) - The Honest Deceiver
Inspiring visual magic with drama and surprise. Funny and remarkable, his "honest lies" will arouse the curiosity of many and the smiles of all.

Paul Dabek (UK) - Magician, Comedian and Vaudevillian
A bag full of banter and a personality that reaches right to the very back of the theatre, it's no wonder that Time Out Mag describes him as 'A Superb Showman'!

Chris de Rosa (UK) - The Grand Illusionist
Presenting the Art of Illusion. From death-defying grand illusions to graceful classical sleight-of-hand. With over 27 years of performing worldwide on cruise-ships, casinos and theme parks, Chris has worked on the world's leading illusion shows.

Señor Pérez (Spain) - The Bubble Poet
A brilliant combination of bubbles, magic and smoke where soundtrack and graceful movement will give to the audience a wonderful experience of visual beauty.

Last Updated: 18 September 2017 16:24
Latest Local News
A special lecture to celebrate the legacy of world renowned gannet expert, Dr Bryan Nelson.
One of the UK's most popular comedians, Jon Richardson is back on the road this autumn with his second leg of his smash hit tour 'Old Man'!
Soul-funk legends Jazzie B and Caron Wheeler are coming to The Glasgow Barrowlands on Saturday, December 9th!
ODEON East Kilbride is to become the first ODEON Luxe cinema in Europe - officially launching on Thursday 12th October!
More Local News
Last Updated: 6th October 2017
Listeners offered chance to buy balcony tickets for the 2017 Forth Awards in November.
Last Updated: 5th October 2017
Champagne moment as Caribbean-bound Karen Celebrates £10,000 win on Forth 1's On The Money Extra.
Last Updated: 5th October 2017
An intriguing new play exploring the relationship between fathers and sons will have its world premiere at the Traverse Theatre.
Last Updated: 4th October 2017
elrow have announced the lineup for the elrow Halloween Haunted House indoor festival at Royal Highland Centre.
Last Updated: 30th September 2017
Scotland's iconic landmarks light up to support Paisley UK City of Culture 2021 bid!
Last Updated: 29th September 2017
Actress, singer and TV personality Claire Sweeney will take over the role of 'Irene' in the national tour of Crazy For You.