Flying into SOS Puffin Season
Scottish Seabird Centre's award-winning project to save the puffins relaunches this month.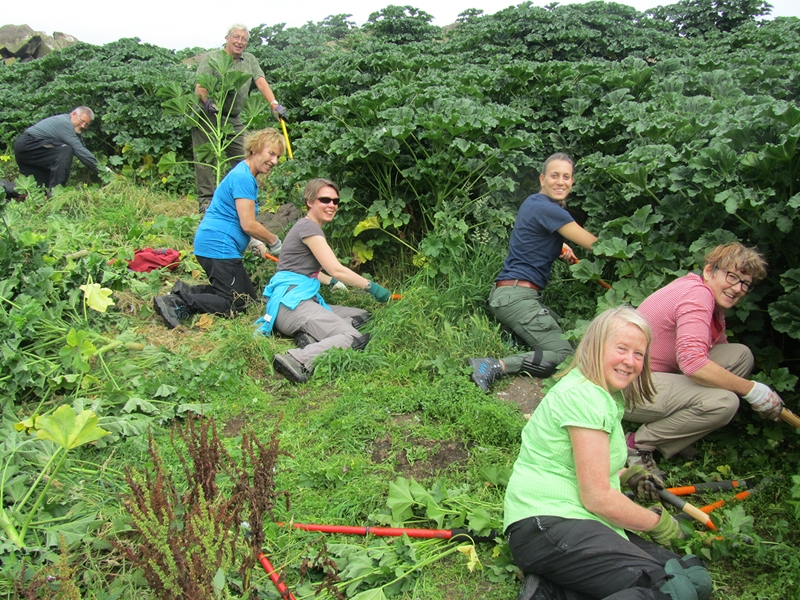 Conservation and education charity, the Scottish Seabird Centre, is now into SOS Puffin season, as the puffins have left the islands of Craigleith and Fidra and headed out to sea for the winter.

SOS Puffin is the Scottish Seabird Centre's award-winning project to save the puffins on the islands in the Firth of Forth. One of the UK's largest puffin colonies, numbers on the island of Craigleith had crashed from over 10,000 pairs to less than a thousand, due to a giant plant called tree mallow which grows to 3 metres in height.

Tree mallow is thought to have been introduced to the Bass Rock over 300 years ago by soldiers manning the fortress there because of the medicinal value of its leaves. It has spread rapidly in recent years, helped by mild winters (linked to climate change), taking over the other islands and preventing the puffins from nesting and rearing their pufflings.

Over 280 work parties have made regular trips out to Craigleith and neighbouring Fidra island over the last 10 years to cut down the tree mallow, with the project being run and supported entirely by more than 1,100 volunteers.

John Hunt, Scottish Seabird Centre trustee and SOS Puffin leader, said: "Thanks to the tremendous support of more than 1,100 volunteers, excellent progress has been made with this project. Continual monitoring is showing that the natural vegetation is recovering and the puffins are now able to nest without interference from tree mallow.

"Other nesting birds such as eider ducks and fulmars have also benefited. But we cannot rest on our laurels; the project needs to continue for some time as tree mallow continues to regenerate from the large seed bank in the soil."

Tom Brock OBE, Chief Executive of the Scottish Seabird Centre, adds: "SOS Puffin is an amazing example of conservation-in-action. We are very grateful to all the volunteers who are helping our wonderful local puffin population. There are many opportunities for people to get involved with important marine conservation and research projects throughout Scotland, and we are keen to showcase this vital work in the Centre in the future."

For more information on SOS Puffin visit: www.seabird.org/conservation/sos-puffin/44/194



Last Updated: 18 September 2017 12:37
Latest Local News
A special lecture to celebrate the legacy of world renowned gannet expert, Dr Bryan Nelson.
One of the UK's most popular comedians, Jon Richardson is back on the road this autumn with his second leg of his smash hit tour 'Old Man'!
Soul-funk legends Jazzie B and Caron Wheeler are coming to The Glasgow Barrowlands on Saturday, December 9th!
ODEON East Kilbride is to become the first ODEON Luxe cinema in Europe - officially launching on Thursday 12th October!
More Local News
Last Updated: 6th October 2017
Listeners offered chance to buy balcony tickets for the 2017 Forth Awards in November.
Last Updated: 5th October 2017
Champagne moment as Caribbean-bound Karen Celebrates £10,000 win on Forth 1's On The Money Extra.
Last Updated: 5th October 2017
An intriguing new play exploring the relationship between fathers and sons will have its world premiere at the Traverse Theatre.
Last Updated: 4th October 2017
elrow have announced the lineup for the elrow Halloween Haunted House indoor festival at Royal Highland Centre.
Last Updated: 30th September 2017
Scotland's iconic landmarks light up to support Paisley UK City of Culture 2021 bid!
Last Updated: 29th September 2017
Actress, singer and TV personality Claire Sweeney will take over the role of 'Irene' in the national tour of Crazy For You.