Total Warrior Event Launches New Kids Race in September
Total Warrior is back in Scotland (16 & 17 September) and for the first time this year kids can get in on the action too.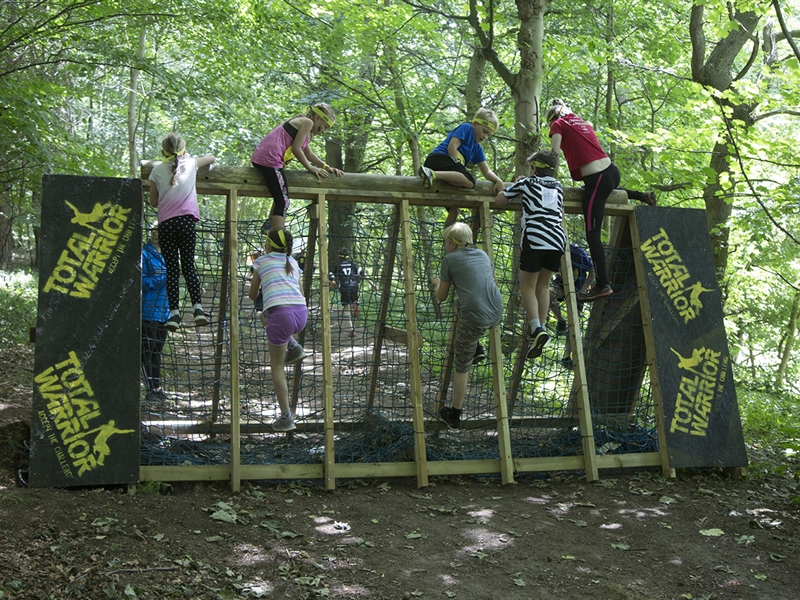 Total Warrior, the pinnacle of UK obstacle racing, is back in Scotland (16 & 17 September 2017) and for the first time this year kids can get in on the action too.

A specially designed Junior Warrior course packed with fun obstacles is taking shape alongside the senior route and children between six and 12 years old are being invited to tackle the muddy challenge.

Taking place at Balgone Estate, near the seaside town of North Berwick, the Junior Warrior course features 12 challenging obstacles over 2km and is a scaled down version of the senior Total Warrior race, which crams 32 obstacles into a 10km route.

Children participating in Junior Warrior will not only tackle climbing walls, hay bales, muddy crawls and water slides, but also receive their own Junior Warrior head band and medal when they cross the finish line. More than 200 youngsters have signed up so far, with that number expected to grow over the next couple of weeks.

David Gaffney, Total Warrior organiser, said: "Total Warrior has been really well received here in East Lothian since we first brought the event to Balgone Estate in 2015. More than 7,000 people have completed this event since then and one piece of feedback that kept recurring was that people wanted their kids to be able to share in the fun too. So, this year we decided to build some obstacles especially for kids and design an exclusive 2km course for them adjacent to the main race route.

"It's a great way for children to challenge themselves while having fun at the same time, and parents are invited to do the course alongside them at the event too. It is our aim to make this year's event a real family affair, although we realise it might spark some intense household rivalry between the parents and kids taking part!"

Some 60,000 people have completed Total Warrior's events in Leeds, the Lake District, and Scotland since 2011, with its gruelling courses carefully designed to satisfy the nation's growing appetite for extreme physical challenges in exceptionally muddy conditions. Competitors at Balgone Estate will jump fire, tackle cargo-net climbs, crawl under barbed-wire, clamber over giant A-frames, plunge into 10 tonnes of ice cubes, and even face electrocution before they get to enjoy a giant, 30-metre long water slide.

For those looking to really push their physical abilities to the limit, organisers are also offering an Ultra Warrior entry for 2017. Designed for people who are up for the ultimate challenge, participants will be tasked with running as many laps of the punishing 10k course as they can manage in five hours. The winner will be the one who completes the most laps in the fastest time.

There is still time to enter all of the events and for more information or to take part in this year's event, please visit www.totalwarrior.co.uk



Last Updated: 30 August 2017 16:42
Latest Local News
Turner Hire Drive is now offering the opportunity of free short term vehicle rental to registered charities throughout the UK.
Children & families across five local authority areas in central Scotland are set to benefit from 300 Forestry Commission Scotland Forest Family Bags.
The Traverse Theatre is excited to share exclusive rehearsal imagery of December's production of How to Disappear.
Scottish composer Martin Suckling is on a mission to collect as many sound samples of bells from across Scotland as possible.
More Local News
Last Updated: 13th November 2017
Strictly superstars Vincent Simone and Flavia Cacace return to the stage with their most audacious and thrilling show yet, Tango Moderno.
Last Updated: 9th November 2017
Illuminate and energise your New Year celebrations with the Fire & Light outdoor experience at the Helix in Falkirk!
Last Updated: 9th November 2017
Cineworld has revealed that Cineworld Edinburgh will unveil a newly introduced, fully immersive 4DX screen on 13th December.
Last Updated: 8th November 2017
Members of the public can sponsor their favourite seat in the A-listed auditorium of the Edinburgh Playhouse for 10 years.
Last Updated: 7th November 2017
Enjoy Hard Rock's Thanksgiving menu with all the trimmings, for one day only on 23rd November!
Last Updated: 4th November 2017
It's a case of 'Remember, remember 19th November' as Loch Lomond Shores prepares for its annual Christmas light switch on and firework display!